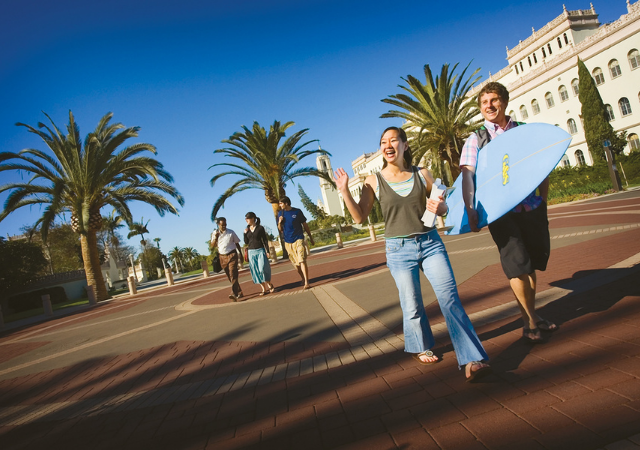 Spring semester has arrived at the University of San Diego and we are looking forward to welcoming all students, faculty and staff back for in-person learning. 
The new semester began with remote learning as we worked to address the Omicron surge and implement new health and safety protocols to help keep our Torero community safe and healthy. To learn more about how we're working to keep our campus safe, visit the Onward USD website.
As February quickly approaches, we are looking forward to several events where the Torero community can come together and reconnect.
The long-standing tradition of the All Faith Service continues! As an engaged, contemporary Catholic university, the All Faith Service celebrates the diverse array of faith traditions and beliefs that make up our campus community. This year, the event will be held Thursday, Feb. 10 at 12:15 p.m. in the Kroc Institute for Peace and Justice (IPJ) Theatre. For those who are unable to attend in person, there will be a livestream on the day of the event.
The date for the Spring 2022 Alcalá Bazaar has changed to Tuesday, Feb. 15. The event will give students the chance to discover the many opportunities for involvement available on campus, from student organizations to university centers and more. The event will run from 12:15 to 2:15 pm at Paseo de Colachis. If you're looking to find more information about a particular organization on campus, be sure to check out the e-Catalog.
We will also be announcing the recipients of the Diversity and Inclusion Impact Award in February. The award is open to both faculty and staff, and recognizes a sustained commitment to justice, ensuring people from historically marginalized communities receive an excellent education. You can learn more about the award through the Center for Inclusion and Diversity.
There have also been a couple of exciting new additions to the university in the new year.
The IPJ has relaunched its Impact:Peace program under the new name of the Violence, Inequality and Power (VIP) Lab. The VIP Lab is a space where individuals can come together to discuss ways in which we can confront power imbalances that reinforce cycles of violence.
There is also a new option for those looking to provide a gift and support the university. Donations can now be made through cryptocurrency, which includes Bitcoin (BTC), Litecoin (LTC) and several others. If you would like to support USD with a donation of cryptocurrency, please see the list of accepted cryptocurrencies. 
— Kelsey Grey '15 (BA)