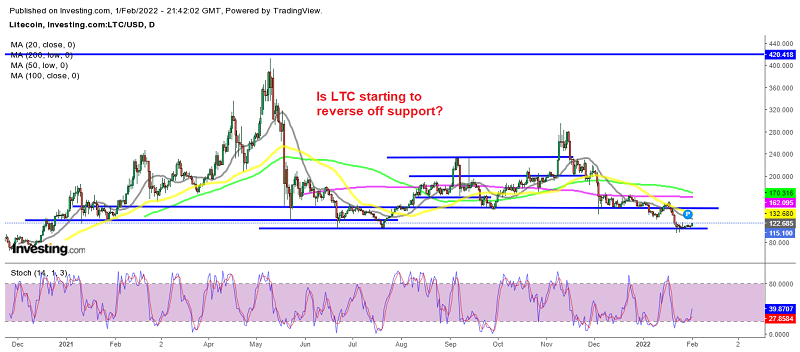 The decline in the crypto market has stalled once again, after suffering some heavy losses in January. Now, cryptocurrencies are crawling higher, although the buying pressure seems quite weak. Litecoin and Polkadot have reached important support zones, where the decline has stopped. There's not much buying pressure in these two crypto coins right now, but there is a decent chance that we might see a bullish reversal from here at some point.
Litecoin Daily Chart Analysis – The Last Support Holds for LTC
After working on it for two years, Litecoin has just made what they consider to be the biggest upgrade, with the MimbleWimble update. This update is expected to bring fungibility to Litecoin, making it a payment-focused digital coin, since the update has also increased scalability.
The Mimblewimble Extension Block (MWEB), which enabled the integration of the update, gives LTC users the option of doing confidential transactions, which is useful for them when it comes to salaries, payments etc. This brings Litecoin closer to becoming like a normal currency, which should help further adoption. It hasn't helped with the decline, but it might be a positive factor if the sentiment improves in the market. So we will have to keep an eye on LTC/USD in the coming days, and if the support zone above $100 holds, we might decide to buy Litecoin
Binance Daily Chart Analysis – BNB Stops at the $330 Support Zone
Let's see if the MAs will provide resistance again when they catch up
Binance coin failed to make new highs above $700 in October, as most digicoins did back then, during that strong bullish momentum. It started to retreat in December, after the market had been retreating for a month, and it lost more than half its value, falling to $330s.
This token was holding well, even during the crackdown on the Binance exchange, which was coordinated across the globe, but this pullback might be a good opportunity to look for longs. Binance is making progress, having acquired the crypto Visa card provider Swipe, which operates at more than 70 million locations around the globe.
Besides that, Binance launched a $1 billion initiative to fast-track the development of the Binance Smart Chain ecosystem, which should help BNB. But for now, BNB/USD is trading above the support, so we will observe the price action in the next few days to see where it will be heading next.
BNB/USD