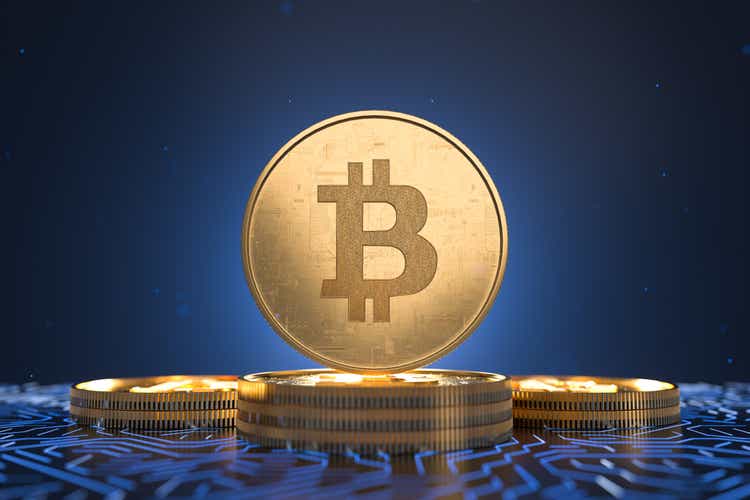 Roundhill Investments looks to join the likes of others with the launch of a Bitcoin Strategy exchange traded fund that capitalizes off of Bitcoin Futures contracts.
Per a U.S. Securities Exchange Commission filing, Roundhill Investments intends to bring to market the Roundhill Bitcoin Futures ETF. The ETF will be an actively managed fund that does not directly hold or invest in Bitcoin (BTC-USD) but rather in futures contracts of the crypto asset.
According to the SEC prospectus "The fund will invest in standardized, cash-settled bitcoin futures contracts traded on commodity exchanges registered with the Commodity Futures Trading Commission."
At this time there is no expense ratio or ticker symbol that is tagged to the filing.
Moreover, Roundhill Investments' ETF will find itself competing alongside the likes of the popular Proshares Bitcoin Strategy ETF (NYSEARCA:BITO), Valkyrie Bitcoin Strategy ETF (NASDAQ:BTF), and the VanEck Bitcoin Strategy ETF (BATS:XBTF). All three ETFs use a similar strategy in investing in Bitcoin futures contracts.
From a performance stance in 2022 BITO is -55.7%, BTF finds itself lower by 54.7%, and XBTF trades to the downside by 54.3%. Additionally, Bitcoin itself has declined year-to-date by 56.1%.
In related crypto news, Voyager Digital has issued a default notice to the crypto hedge fund Three Arrows Capital.